Workshop: "Multifaceted Relations: Africa-Asia"
02.-03.07.2021
Campus, RWI, S58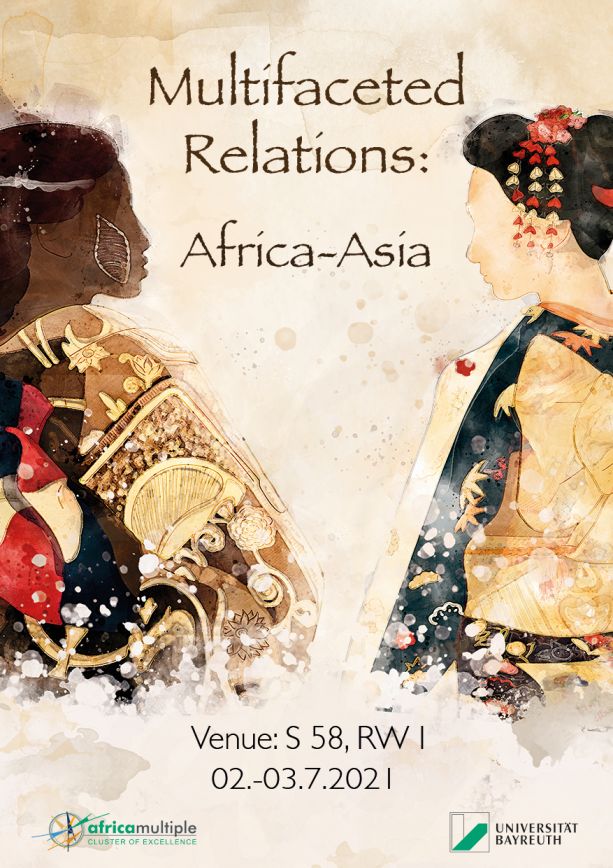 The workshop will bring together members of the Cluster who work on the Africa-Asia connections and give a platform to create synergies. It is meant to be a first step towards synergies between various research interests and different approaches.

The increasing influence of China on the African continent is one of the large topics dealt with in numerous publications over the last decade. It mainly deals with economic questions, higher education but also more and more with questions of intercultural encounters. India is one of the strongest competitor in many African countries in the same fields, while Japan and South Korea also set on collaborative research besides strong interests in growing markets. Historical connections as well as cultural exchange has gained less attention but are very often also crucial to longer lasting relations between Africa and Asia.
In the Cluster, some cooperation and exchange has been taken place with the network of institutes of African Studies in Asia (New Delhi, Seoul and Kyoto), our partner University Bordeaux is about to plan more cooperation with Kyoto, and New Delhi organizes regular webinars on Africa-Asia research and cooperation. This workshop is a first step towards synergies between the various lines of research with the objective to create a working group who will develop research questions together.
Due to the pandemic, this workshop only has a limited number of participants. It also is a first step in the development of a closer cooperation in this field.
| | |
| --- | --- |
| 9:00-9:05 | Ute Fendler: Welcome address |
| 9:05-9:30 | Peter Simatei: Africa-Asia: Literary Relationalities |
| 9:30-10:00 | Christine Vogt-William: An Intersectional Reading of Race and Gender Politics in Abraham Verghese's Cutting For Stone |
| 10:15-10:30 | Break |
| 10:30-11:00 | Clarissa Vierke: Broader ties and local connections: Indian (Ocean) references in Mahmoud Mau's Poetry |
| 11:00-11:30 | Andrew J. Eisenberg: Hadrami Sounds on the Edge of Swahili-space: Musical Poetics of Ethnicity on the Kenyan Coast |
| 11:45-13:30 | Break |
| 13:30-14:00 | Pedro Pombo: Afro-Indic Archipelagos: searching for materialities, visual cultures and art practices on African heritages in Indian Ocean islands |
| 14:00-14:30 | Iris Clemens: Global circulating educational concepts and multiplicities of contexts in India and Africa – between hopes and waithood |
| 14:45-15:15 | Break |
| 15:15-15:45 | Yongkyu Chang: The role of civil society as the mediator between Korea and African cultural interaction |
| 15:45-16:15 | Kristina Wright: Cultural Patterns and Asia-Africa Intersections: Notes from an Artistic-Curatorial Exchange |
| 16:15-17:00 | Break |
| 18:00-19:30 | Screening of documentary and discussion with the artist Onejoon Che: My Utopia – I am Monica from Pyongyang (My Utopia, HD 27'35", 2018) (Spanish, Korean, engl. Subtitles) |
| | |
| | |
| --- | --- |
| 9:00-9:30 | Onejoon Che: Mountain of Fire: the black culture in Korea |
| 9:30-10:00 | Ute Fendler: Africa and African/American Artists in popular visual culture in South Korea |
| 10:00-10:15 | Break |
| 10:15-10:45 | Ruth Simbao: Personal, Spatial and Object Biographies in China-South Africa Migrancy: Visualizing Everyday Life and the Afterlife |
| 10:45-11:15 | Mingqing Yuan: Drifting in Africa (非漂): An Autobiographical Account of Being "Guest" in Kenya |
| 11:15-11:45 | Jana Hönke/Yifan Mia Yang: Liminally positioned in the Global South? Re-interpreting Chinese relations with Africa |
| 12:00-12:30 | Final discussion |
| | |
To access the flyer of this program, please click here.