The Panic in the Pandemic: Personal Memoir
Effect of Covid-19 on UBT Campus:

Despite the claim that there had been no cases of Covid-19 at the University of Bayreuth since the disease sneaked into the country in January 2020, the Bavarian Ministry of Science requested that all Bavarian State Universities suspend classroom teachings. Following this ministerial directive, the university discontinued all teaching operations, and administrative activities were also adjusted from 11 March 2020. By the weekend of that same week, a great hush had descended on the virile citadel that used to be a beehive of multi-ethnic interactions. What a time! My first reaction was to return all borrowed books to the library to avoid likely future hitches. Two other visits to the campus while going to my office at Zapf2, Nurmberger Strasse, were quite unimpressive seeing the place practically deserted and in the shadow of itself. Mensa canteen was a perfect example of an unoccupied theatre. Walking through the popular labyrinths around the GW1, I could not but applaud the proactive decision of the university authority stopping all teaching activities as a crucial step in protecting lives. And just like "a lonely Londoner", I strode back to the bus-stop ruminating and imagining the likely future of the uninvited guest in our domain.
Contact with family in Nigeria

As the hullabaloo caused by the disease gained ground, and the news of its havoc spread abroad, family members, concerned friends, and church members home and abroad were gripped with fear and their anxieties culminated in a daily song of "save our soul" for me. And of course, their constant anxious questions were rendered in refrains:
"Hello! How far now?"
"How is your place now?"
"What is Germany doing about the Corona there?"
But in reality, I always ponder on those questions wondering if the siege would ever be over at least in a short time. As stiff and unpalatable as the moment has been, the WhatsApp messaging platform has been of tremendous assistance in mitigating the palpable tension brought by the pandemic. Every short video interaction with family members and others bridges what could have been a gaping gap between us. With the lockdown being eased across the continent recently or perhaps because people have decided to overcome their fear of the life-snuffing Grendel, the daily mantra from home is "When are you coming back?" Yea, although my mind is made, my work is done, the ban on international flights at home constitutes a serious impediment.
My experience of Covid-19 and its spread in Germany:

In the wake of the mystery illness of the Covid-19, the media successfully stoked fear and panic in the public so much that all public and personal activities were disrupted. Prior to this unfortunate season of panic, I had incorporated in my sojourn plan notable academic conferences such as the "Asian Conference on Language (ACL2020) Toshi, Japan, March 29 – April 1, 2020; the "7th International Language in Focus Conference (LIF2020), Valletta, April 30 – May 2, 2020; the "24. Afrikanistentag", Institute for African Studies, Goethe-Universität Frankfurt, 14 – 16th May 2020; the "7th International Conference on Language, Literature, Linguistics & Communication 2020 (LLLC2020)" 18th – 19th June, 2020, National University of Singapore Society, Singapore; and the "39th International LAUD Symposium" August 3 – 6, 2020, University of Koblenz-Landau Landau, Germany. All these long-coveted adventures got cancelled in quick succession despite the energy dissipated in preparation and financial commitment involving registration, flight booking, and accommodation regarding a couple of these conferences. That hope was dashed!
This pandemic brought with it a long dehumanizing period of solitude and depression exacerbated by one's status as a foreigner. Although I lived in a beautifully fascinating environment, isolationism and individualism seemed to be the unwritten constitution of existence among all occupants in the milieu. BRK building which houses old people's home, a nursing school, and a hostel is unequivocally one of the best accommodations around. But just like it was the case in other places, the relished utopia of the accommodation was threatened by the Covid-19 situation in the Germany and the world in general. And with the clinical awareness and warning that hard surfaces and handles could harbour the virus, exiting or entering the accommodation was always a psychological warfare ignited by fear. People observed the generally acknowledged social (physical) distancing of 1.5 (2) meter outside the building even with nose masks at times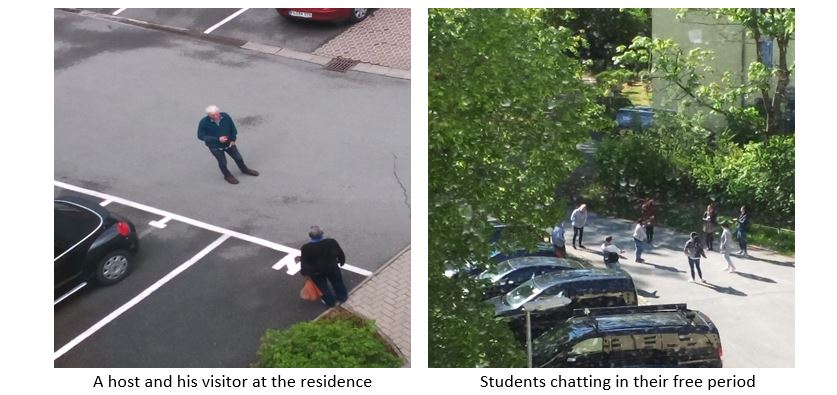 but the main door handle and the elevator buttons were constantly caressed by different hands and fingers almost endlessly day and night. Our kitchen lifestyle required us sharing spaces including dining, reception, and items such as cabinet, napkins, cooking utensils and several other things excellently provided at the residence. Nevertheless, the fear of the disease was very much ferocious! But overtime, positivism hinged on the Biblical assurance, There shall no evil befall thee, neither shall any plague come nigh thy dwelling, became the strongest protective incantation for me. This had been the exhortation of our church leaders: Pastor Anthony Boachie and Elder Dr Festus Boamah each time Bayreuth PIWC fellowships online. Of course, such religious expressions of faith cannot be more relevant at any other time than now when precautionary requirements were sometimes jumbled, skipped, and abandoned inadvertently due to the frequency and religiosity required in observing them.
The challenge of not understanding the language of the land was a serious experience. So, to be abreast of happenings especially in connection with the Covid-19 information and government policies concerning public behaviours, I relied on third-party sources especially the Cluster's releases and advice from the staff. At other times, I went online or asked in the course of accidentally bumping into a hostel-mate. I read people's lips, studied my surroundings, and paid attention to gesticulations and movements. Seeing the commuter buses barricading entry point close to the driver's cubicle could not have said it better that the virus was prowling hungrily. Once on any bus, some passengers appeared stiff in their sitting posture and temporarily disconnected from other people around at least when the bus is lucky to take more than one passenger. Walking into popular stores such as Norma and Edeka became so calculated that one might as well determine the number of footsteps to take while scouting for groceries.
My fear of possible ostracization in the pandemic was heightened by some events. Sometimes early April 2020, on my way home from the city centre, a fellowship colleague met me and other friends on the evening bus. Promptly I was engaged in an informal introduction of the colleague and simultaneously extending my hand in greeting since it had been a while we met. His cold response left me frozen! He was patently unenthusiastic about our meeting. His hands appeared deliberately glued inside his pockets! "Oh, my goodness! Sorry, Corona!" I exclaimed trying to regain my composure as other passengers gazed pitiably at me. At this point the reality of unfriendly social distancing, the "new normal", dawned on me. At another time, a friend from the same country was to hand over an item he helped to procure. As he got to my neighbourhood, he called on phone emphasizing that I should meet him at the parking lot. Of course, I did. As I gleefully moved close, he lowered his window glass almost by 1 tenth of the space while we communicated. Perhaps not to feign being oblivious of my discomfort, he grinned and flatly retorted: "Coro is outside!" I just shrugged it off retreating to the building.
The third incident too caught me unawares. I had plan to pay up my rent that day. So, I sauntered just the few metres to the office in charge. Prior to the season of Covid-19, I would walk straight to the counter and transact with the aid of gesticulations and English language. But this time around, all entrance doors were locked yet one could see few workers moving about at a distance inside the facility. After a fretful period of waiting, one of the desk officers came. She stealthily unlocked and held the door so close to herself and simultaneously motioning me to move back. Even when I extended the rent to her, she beckoned me to drop it in a box by the entrance and she took it with a calculated gesture as if a poisonous snake was basking around it. So, she could take the money, but she would not touch my hand! In all these scenarios, it was glaring that the people were so conscious of the disease and the attendant social distancing policies that intimacy beyond familial relationship could be compromised. Yea, this is one of the expedient sacrifices everybody must make to support all efforts of the governments in combating the scourge.
Conclusion

There is no gainsaying that our planet is under the siege of Covid-19 and this sickening situation has dealt a grave blow to the humanity in us leaving us with the principle of "everyone for their family; any other person is an anathema!" It has got so bad that each time there is any slight pain or headache, the fear of the pandemic is now more killing than the pang of any other ailment including the terminal ones. And just like many other people do, every suspicious infirmity is either wished away, or attacked with the mustard-size faith in me. As coronavirus constrains our social life, curbing its menace and banishing it from among us is our responsibility. This is a call to duty and liberating our land from fetters of sorrow should not be treated with levity. So, we should neither retreat nor surrender until the victory is won!
Taofik Olasunkanmi Adesanmi, PhD
Fellow,
Bayreuth Academy
University of Bayreuth, Germany