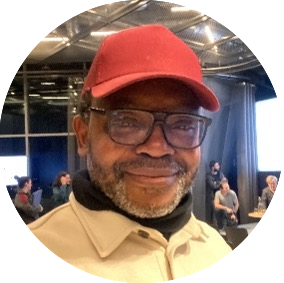 Jean-Pierre Békolo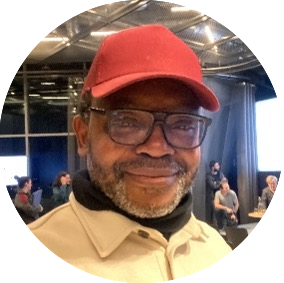 ---
Short Bio
Jean-Pierre Bekolo was born in 1966 in Yaounde, Cameroon. He studied physics at the University of Yaounde in Cameroon from 1984 to 1987. He then studied in the National Institution of Audiovisuals (INA) in Bry-sur-Marne, France, under French film theorist Christian Metz. He returned to Cameroon to work as an editor for Cameroonian television.

Bekolo is currently living across France, the United States, and Cameroon, where he is engaged in many activities like media, education and cinema. He has taught filmmaking at the University of North Carolina at Chapel Hill (2001), Virginia Tech (1998), and Duke University (2003). Most notably, he developed a new teaching method called "Author Learning," based on the filmmaking experience to stimulate students who thrive in a learning environment that consists of building instead of classical instruction methods.

He was introduced in the 1992 Cannes Film Festival for his first feature film Quartier Mozart. This film reimagines folk tales to take place in the setting of today, forming a vision of today's Africa by humorously combining westernized characters and the folk tale atmosphere. Quartier Mozart won him awards at film festivals in Cannes, Locarno, and Montreal and was nominated for a British Film Institute's award in 1993. Those Who Bleed (fr: Les Saignantes), a film about two young women set out to rid the country of its corrupt and sex-obsessed powerful men. The film is considered one of the first science fiction films from Africa. He won the Silver Etalon de Yennenga for his work for this film at the Ouagadougou Panafrican Film and Television Festival. Controversy surrounded Bekolo's Le President (2013). This film depicts a president in office for 42 years who takes a sudden road trip close to an important electoral meeting. His disappearance is watched by the media, political opponents, and even prisoners and causes a war of who will be the successor. The filmmaker continues his research and his work. In 2016, he directed Naked Reality, an experimental afro-futuristic film and then in 2017, he directed the documentary Africa, thought in motion pt. I and II, which explores schools of thought in Dakar, and Miraculous Weapons, a story of human freedom and the freedom of expression.
Selected Publications

Filmography
Quartier Mozart 80 min. 1992
Le Complot d'Aristotle (Aristotle's Plot) 71 min. 1996
Les Saignantes 93 min. 2005
Le Président (The President) 65 min. 2013
Les Choses et les Mots de Mudimbe 243 min. 2015
A la recherche d'Obama perdu 52 min. 2015
Naked Reality 62 min. 2016
Afrique, la Pensée en Mouvement Part I et II . 2017
Our Wishs TV Show. 2017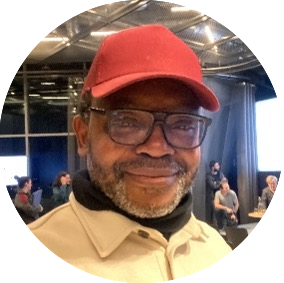 ---
Project Description
CINEMA AS A TRANSFORMATIVE TOOL FOR THE THERAPEUTIC INTELLECTUAL
Conversations & Screenings with Jean-Pierre Bekolo
Tue May 9th: Film Screening Le Mythe, Le Dialogue Et Le Cinema
Conversation with Fabien Eboussi Boulaga, Cameroon philosopher (in French, via zoom)
Tue May 16th: Conversation Afrofuturism From Africa, The Future Beyond The Colonial Accident
Screenings Foumban Is Wakanda, The Reensorcellement & Birth Of A Kingdom (work in Progress). Start the process of producing images of African future without the colonial encounter, the question of the return of African objects and knowledge.


Tue May 23rd: How Cinema Can Shape The Therapeutic Intellectuel, I
Conversation & Screening Nous Les Noirs. An African Filmmaker visiting his Afrocolombian brothers.


Tue June 13th: How Cinema Can Shape The Therapeutic Intellectuel, II
Conversation & Screening Miraculous Weapons. Exploring the Négritude idea of using the French Language to save us as Black People from the French Oppression.


Wed July 5th: Healing Cinema Dogma, Invitation to Practice
A Call to filmmakers to Join the Healing Cinema by making films following the Dogma